~ Are you a person who wants to stand out from the trendy crowd and have your own look? Or do you want to have the latest fashion, just like everyone else?
~ Maybe YOU too are a little sentimental and love the look of the past! It makes you feel special!
~ Vintage can also connect you with your loved ones and preserve memories!
~ It is a great way to go "green" by reusing those beautiful pieces!
~ Vintage items were quality made meant to last a long time and hold their value!
If this describes YOU, Vintage is probably a great style for you!
It is always unique and will allow you to express your personality! Usually the definition of Vintage is that a piece is over 20 years old. Antique jewelry is defined as being 100 years old. Other terminology related to vintage jewelry is "fine jewelry" and "costume jewelry." Fine jewelry means it was made with silver, gold, and platinum along with using fine pearls and gemstones. Costume jewelry is made of less precious metals, pearls and rhinestones. The cost in both categories can vary greatly depending on the materials used, the makers, age etc. The sky is the limit as to what type fits your taste - earrings, necklaces, bracelets, rings, brooches, shoe clips, sweater clips, scatter pins, hat pins, etc!
Etsy

is a great place to shop for Vintage Jewelry, Clothing, and Household items, not only in my shop, Sentimental Sue, but also there are many other shops that also specialize in vintage jewelry, fashion and household. You are bound to find something for your own unique style and look. I would love to help you choose a special piece to express your flair and spirit!
Do you already have a Sentimental piece of jewelry from a family member like Grandma or Aunt Mary?!
Find a way to wear or display it proudly! Go ahead and experiment with your Vintage Jewelry! It can be worn many ways - attach it to your purse or bag, everyday wear on your jacket, or displayed prominently in your home as decor. See this great tutorial for preserving a Sentimental piece of Jewelry as Art at magnoliaandmaple.com.
See this great Tutorial for preserving a Sentimental piece of Jewelry


!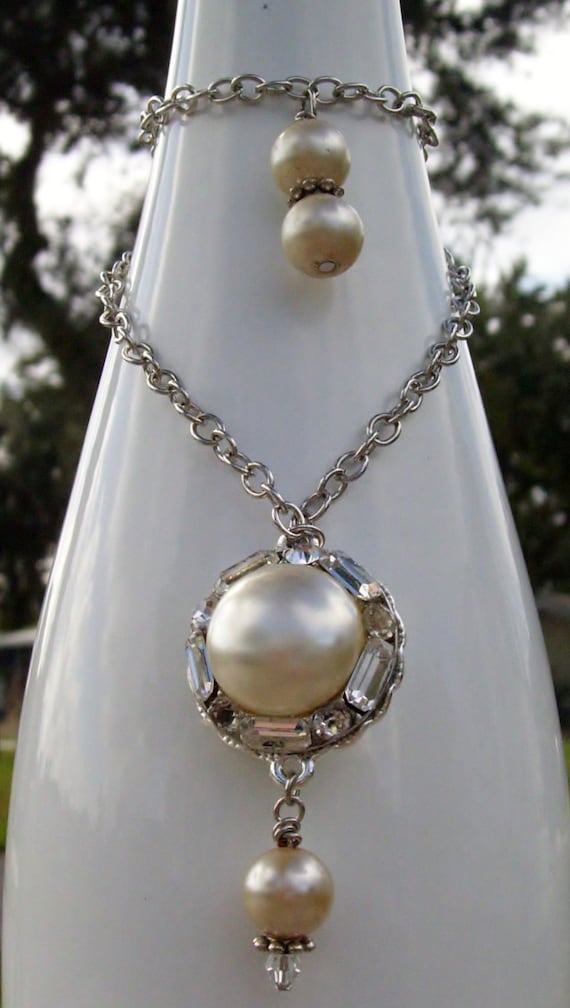 Another option is my line of Wine Bottle Decor that features vintage jewelry!
If you have a piece you would like made into Wine Bottle Decor, I would love to help you with that! I can design and make it for you or contact me and I will help you through the details. It could even be a piece that is broken or in not such great shape, but has sentimental value and you don't want to get rid of it. Almost anything can be preserved and recycled into a new keepsake treasure!
Some of my personal most precious pieces of vintage jewelry came from my Mother-in-Law!

She loved jewelry and whenever she and her husband went on a trip or for special occasions, he would buy her a piece of jewelry! How sweet! When she passed away all too soon from breast cancer, there was lots of great jewelry pieces to go through! It was great to hear the kids stories of speculation of where each piece may have come from! She was a great lady and will always be remembered. Sorry these are not for sale!
Do you have a piece of Sentimental Jewelry that is special to you? Why do you love to wear Vintage?
I would love to hear from you!